Chongqing is often called "Little Hong Kong," the world's fastest-growing tourist city in recent years. This city is a perfect combination of the attractive urban landscape and traditional cultural elements. Let's discover things about Chongqing city with MyTravelThru.
As one of China's four major autonomous cities, Chongqing borders Sichuan to the west, Hubei and Hunan to the east, and Shaanxi to the north, connected by many high-speed trains and flights. With many inland cities in China.
Located along the upper Yangtze River in Southwest China, this sprawling metropolis is the starting point for a beautifully relaxing cruise down the Yangtze past the Three Gorges and Three Gorges Dam.
Chongqing's roads and constructions are all built to suit the mountainous terrain. Chongqing welcomes you to this megacity to cruise on the Yangtze River and admire the world's strangest architecture. Besides, you can spend more time experiencing delicious food, museums, culture, panoramic mountains, city views, and even UNESCO World Heritage Sites.
Shibaozhai Pagoda 
Located on the north bank of the Yangtze River in Zhong County, 32 km from Zhong county and 190 km from Chongqing City, Shibaozhai (石宝寨) is a rocky and craggy hill by the river. It is a "National AAAA Tourist Attraction." The US Discovery Channel has hailed it as one of the "Top 7 Wonders in China" and "Eight Strange Buildings in the World."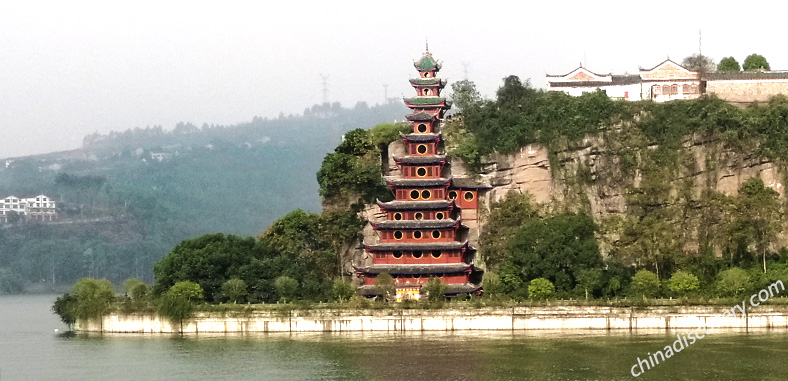 This rock hill is about 200 meters high. According to legend, this massive rock is a colorful rock left by Goddess Nvwa when she repaired the sky. It is called Shibao (meaning gemstone). During the Ming Dynasty, Xinhong, the peasant uprising leader, made this place a fortress, hence the name Shibaozhai, which means Gem Fortress in Chinese.
Shibaozhai is a resort that combines mountain scenery, water scenery, and ancient architecture into one. With so many wonderful and unique spots, Shaibaozhai Temple is known as the "Bright Pearl on the Yangtze River."
Hongya Cave
Hongya Cave has a history of more than 2,300 years. It was a military fortress from the ancient Ba Dynasty (1046 BC – 256 BC) to the Ming and Qing dynasties (1368 – 1911). It was also home to ancient China's earliest developed pier.
Hongyadong is an 11-story, 75-meter (245-feet) tall house on stilts built along a cliff on the banks of the Gia Lang River. Unbelievable that two different routes can access the 1st and 11th floors. Guests can take the elevator to each floor, where various bars, cafes, and restaurants are.
This place has become a famous destination for tourists to experience Bayu culture – a feature of Chinese national culture, watch the river, and enjoy delicious food. The beautiful night view is a particular highlight.
Ciqikou Ancient Town
People always say, "If you weren't in Ciqikou, you weren't in Chongqing." Ciqikou Ancient Town, aka Ciqikou Old Town, is a great place to tickle your taste buds and find unique souvenirs (carpentry, porcelain, clothing, take-home food, etc.). The area is also great for taking photos and enjoying the traditional architecture and street performers.
Located 14 km west of Chongqing Chaotianmen Pier, it has a river and two streams flowing through it. Three mountains surround Ciqikou's old town. It was a famous trading port in ancient times. Currently, it is a great place to relax for the locals.
With a long history, Ciqikou Old Town was first built between 998 and 1003, and it was initially called Baiyachang. Ciqikou Ancient Town has 12 streets. Most of the architecture on the streets is created in the Ming or Qing Dynasty architectural style. The roads on the streets are paved with slate.
You will find exquisite specialty shops, signature snack shops, and old-fashioned teahouses all over town. A suggestion is to take your time to taste the local flavors or order a tea. At the same time, watch folk performances, like Sichuan Opera or Sichuan Qingyin; let Ciqikou take you back to the old times of Chongqing.
Dazu Rock Carvings
The carvings are in an eight-hundred-year-old art gallery. The carvings depict the Buddha's instructions on behaving in everyday life.
Located in the Dazu district in Chongqing, Dazu Rock Carvings is 167 km from the city center of Chongqing. Recorded as a UNESCO World Heritage Site in 1999, Dazu Rock Carvings has a reputation that rivals the top four caves in China.
This building appeared in the late Tang Dynasty (618~907) and early Song Dynasty (960~1279). Most carvings have Buddhist culture as their theme, and we can also see Confucian and Taoist sculptures in them. However, the most exciting part is that all the sculptures show the life of Buddha and other stories in Chinese Buddhism.
WEATHER & BEST TIMES TO
Chongqing has a classical humid subtropical monsoon climate, with an average annual temperature of 16 ℃ ~ 18 ℃. The average temperature of the hottest month is between 26 and 29, while the average temperature of the coldest month is between 4 and 8 ℃. Rainfall is abundant, and from May to September is the rainy season.
The best times to travel to discover things about Chongqing city are spring and autumn. The weather during this time is quite good and comfortable. However, from October to April next year, Chongqing has more fog than at other times. Therefore, although summer is hot, it is less foggy than in different seasons.
It is the best time to enjoy the beautiful night view of Chongqing. Winter is more suitable for viewing the snowy scenery, and hot spring baths are also quite relaxing.
If you learn more information, you can visit our website, Facebook, or LinkedIn.